tbhh penthouse implants
The new arrangement and merging together of two heritage-protected penthouse apartments, using the Hummer vehicle concept – compact, ergonomic and reliable, but also versatile and luxurious.
keys
01 Preservation of the heritage-protected facade and the building's character
02 Integration of a functional living space
03 Hummer principles – perfection, sturdiness, luxury
04 Three module-like functional objects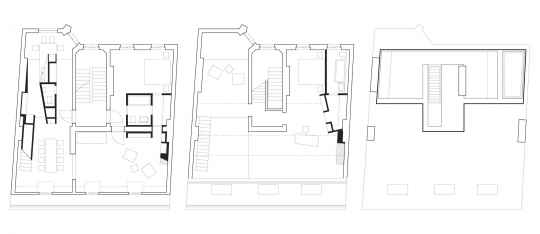 (plans: ground floor, 1st floor, 2nd floor)
idea
'A hummer house n' is to be built as a large single family residence on the very top floor of a heritage-protected landmark building in Mitte, Berlin. The facade and the building itself must be preserved, while free conceptualization is permitted in the loft.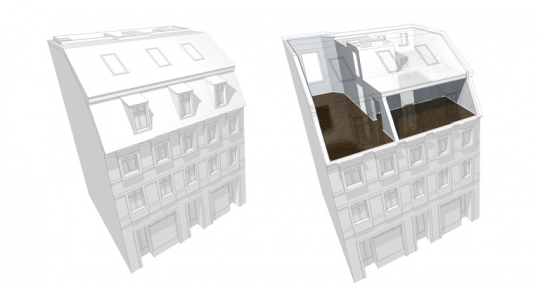 The two flats, situated on the third floor, would be merged together, incorporating the loft above them.
The revamped residence would consist of three core module-like objects, which would be placed just like furniture within the newly organized living space.

These objects would divide the third floor into three separate living areas, each encompassing a different function and spatial composition. Each area would be uniquely defined by its corresponding furniture-like object.
A Hummer, as a product, provides exactly what you need for the everyday environment, combining sturdiness with luxury. This spirit of perfection and solid efficiency is shared by the concept of 'a hummer house n'.
The three module-like objects - the means of producing the main concept within the spaces - are compact, ergonomic and reliable. They are fitted for the human scale and set the standards for performance, versatility and luxury, integrally combining these aspects, much like a Hummer.
Object 1: Reception area
An engine of a Hummer is vital to the overall function of the machine. It catalyses every single process. The engine in the presented concept is the reception area, which controls the movement within. It activates and coordinates the user, welcoming, entertaining and introducing them to a relaxed, comfortable zone. It leads to the upper floor, dividing the space into separate areas. The guest cloakroom, closet and rest room are situated at the entrance, where a short corridor is formed. Built into the back are the kitchen facilities, which verge the guest and kitchen areas. The stairs lead to a small lobby above the engine.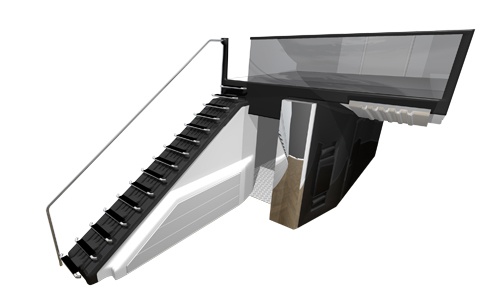 Object 2: Living Area
The living area builds up the largest and most complex space within the loft. It serves the private sphere, much like the spacious, padded inside of a Hummer.
Located on the first level is a large living room, which is adjoined to the reception area. This then follows to a bedroom, bathroom and dressing room.
There is a studio on the second level, which has another bathroom and dressing room. This private zone can also be accessed independently from the reception 'engine'.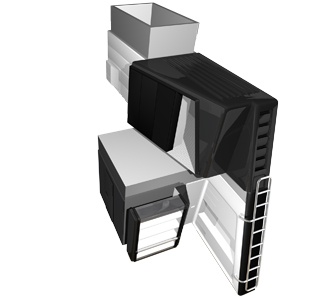 Object 3: Roof garden
The roof terrace combines the other two areas and sinks into the roof. It can be accessed via the bathroom above the reception area.