mtms metamorphosis, bunker conversion, berlin
The unique attractiveness this project offers to its users is the opportunity it provides for upward revaluation thanks to the cultural landscape in its close proximity, its "iconic" transformations, but especially the charisma and drawing power of the Asian collection to be housed here. This will increase the representative value of the property.
The intention is to build 12,200 square metres of floor space in total constructed over two phases – with the first consolidation measure on the Main Bunker accounting for approx. 5,600 square metres in total. A further construction section will occur at an appropriate point in time in a second round.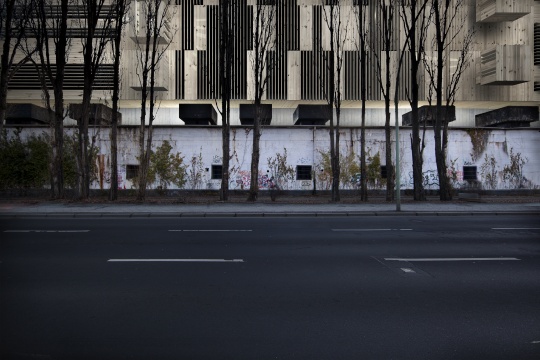 A. Collection in the bunker
An atniquity collection is to be exhibited in the front bunker. The historic building is to remain untouched to a large extent. The collection is to be housed in a room within a room.
B. Floors construction
The construction of the floors is to be carried out on the southern end of the street side. The vertical development is to lead across the foyer, which crosses the old bunker, to the southern side of the building into the representative areas – reception and multipurpose area.
Energy efficiency concept for the building
The two-floor basement, of which the smaller bottom floor is filled with water due to water pres- sure from the adjacent Spree river, provides the opportunity for an efficient, cost saving concept for heating and cooling the building. The fill level is stable as well as the temperature. The 7.2 meter deep allocation holds a stable temperature of 8-10°C, which plays a central role here for the use as an energy source.
In this way the building can be heated and cooled to a large extent by means of thermal activation of the building structure through usage of a heat exchanger with decentralized regulation, through which the consumption can be reduced.